What We Do
At Padded Tush Stats, we understand that diapers work differently for different baby types. So to help us get as accurate of a review as possible, we compile statistics based on surveys filled out by parents of babies with different body types, and then we sort the reviews by those body types.
We are also a large resource of information on all things cloth diapering: we have tables where people can pick the detergent that would work best for their conditions, a searchable database where people can find the best deal out there on the diaper they are looking for, as well as an abundance of articles on cloth diapering.
Honesty and Thoroughness Is Important To Us
Writing honest and thorough reviews is important to us. If a company sends us a cloth diaper, it doesn't influence our review. Although we do feel it necessary to discuss the weaknesses of a diaper, we try to do it respectfully. We try to be as absolutely thorough as possible, trying the diapers in different conditions and troubleshooting any issues. You can find more information on our review process HERE.
Tara is a doctorate student in Education and is writing her dissertation on a survey research study of writing programs in America. She began cloth diapering three years ago, when she felt that using disposable diapers was costing too much money. The problem was, a lot of the highly recommended diapers weren't working for her baby. What she finally discovered was that her baby was skinny and a heavy wetter, and that diapers worked differently for those baby types. Because of her professional work with survey design and statistics, she designed Padded Tush Stats as a way to determine how different cloth diapers worked on different babies. What she found was astounding: the build of a baby had a huge impact on the functionality of different cloth diapers.
After building Padded Tush Stats, she began testing as many cloth diapers as she could get her hands on. At this point, she has tested close to 200 cloth diapers on her two children. She is also one of the Cloth Diaper Ambassadors over at KellyWels.com.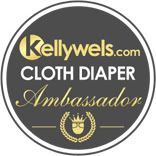 Carolyn was excited to start cloth diapering after the birth of her first child in 2011, but ran into problems finding something that would be leak-free on her very skinny baby. She first met Tara and heard about PTS when searching online for the best CD option for teeny thighs, and was immediately smitten with the concept. With a background in database management, data collection, and teaching, the site combined all of the things she liked best about her previous work experiences (charts! graphs! personalized education programs based on specific data!) and combined them with her new love (cloth diapers!)
Carolyn started working for PTS in June 2012 doing mostly behind-the-scenes work (updating spreadsheets, organizing data, etc.) and began writing diaper reviews for the site after the birth of her daughter in October 2012. She is passionate about social media and customer service, and can frequently be found answering questions on the Padded Tush Stats Facebook page, Facebook Discussion Board, and Twitter account.
When not working on PTS projects, she can be found writing sporadically about parenting and life as a SAHM on her own blog (Making It Work), folding/stuffing endless baskets of diaper laundry, and procrastinating on cleaning the floors in favor of playing on them with her kids!